Why Helping Workers Stay Healthy Is A More Profitable Business Model
Health is on everyone's mind these days as we make more scientific advances showing what the cause of more and more diseases are. For instance, we know sugar causes diabetes, fast food is directly and too much sun exposure leaves people vulnerable to certain cancers. Of course, there are many varying factors in all of these but in regards to the sun, we know that it is not good for humans to remain unprotected beneath the sun's powerful rays. As an employer, now more than ever, you know that healthy employees are productive employees which is why, window film is something to consider in your Dallas office space, not only for the health and wellness of your workers–but ultimately for your bottom line. Here is why:
How Daylight Redirecting Window Film Keeps Office Workers Healthy
Daylight Redirecting Window Film Improves Employees Mood: Whether an employee is right by a window and getting overwhelmed with sun or someplace deeper in your office and getting very little–their moods and mental well-being are dramatically affected. Daylight redirecting window film takes the bright glare of the sun and redirects it deeper into your Dallas office meaning, both employees plagued by too little or too much sun get what they need to improve work performance and put more money into your pocket.
Daylight Redirecting Window Film Protects Employee's Eyes: Reading a screen in the harsh sun can be very hard on eyes and cause headaches, frustration, and overall slow performance. Daylight Redirecting Window Film, curbs the glare of the sun, allowing your employees to perform at their peak while at the same time protecting their eyes from damage.
Daylight Redirecting Window Film Protects Employees Skin: One in five people will develop skin cancer of some sort in their life–the risk is real but easily addressed with the right precautions. Days off for medical care are incredibly more expensive for employers than preventative measures, like window film, for avoidable diseases like skin cancer. Applying daylight redirecting film, that blocks 99.9% of UV rays is a great way to aid your employees in staying melanoma free and working happily.
For more information on the power of window film for offices, watch the video below: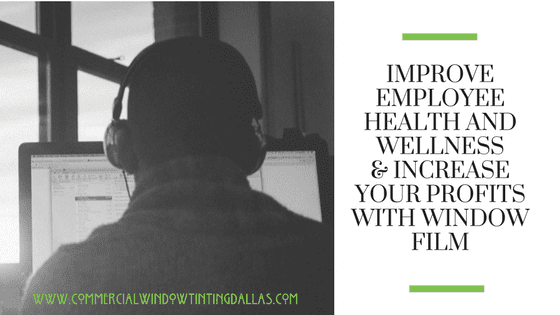 For more information on daylight redirecting window film for health and wellness in your Dallas office, contact us today for a free consultation.